At a time when lockdown restrictions caused by COVID-19 stripped young people of many opportunities, many PRIME member firms moved their programmes online, ensuring that students didn't miss out on the opportunity.
Here, Ella Blakesley, Social Impact Manager at Ashurst LLP, shares why it was so important to continue their work experience programme and some tops tips for those thinking about moving to a virtual work experience programme.
"The learning lost as a result of school closures will have a lasting impact, especially on the UK's most disadvantaged students. At Ashurst, we quickly recognised our responsibility to provide continuity of support to students on our Access Ashurst programme and shortly into lockdown made the decision to move to a virtual programme.
Our Access Ashurst programme is run in partnership with PRIME and offers students from low socio-economic backgrounds across the UK the opportunity to learn more about a career in law through a year's programme of work shadowing, skills workshops and mentoring support.
The programme commenced at the end of July with our Virtual Legal Week, during which we welcomed 25, Year 12 students to the programme. Students were recruited in February, following a competitive recruitment process and joined us from 21 UK schools, largely across London, but also Surrey, Leicester, Derbyshire and Wales.
Our Virtual Legal Week was a huge success, but it did involve significant thought, preparation and organisation! Please see below for some of our tops tips for those thinking about moving to a virtual work experience programme, including links to some useful resources from leading charities working in the social mobility space.  
Moving to a virtual work experience programme
•             Planning a virtual timetable:
One of the first tasks that we undertook was to review our existing Legal Week timetable to identify sessions that could be easily adapted and run virtually. For example a speed networking session swiftly became an interactive virtual panel discussion.
Having identified a number of the most crucial sessions, we then started to think about the structure of the programme, paying close attention to advise, which emphasised the importance of moving away from a traditional 9.30am-5.30pm day, largely linked with the intensity of virtual sessions and too much screen time. At Ashurst we decided to run live sessions in the morning (from 10am – 1pm) and then set students a commercial awareness written project to complete in the afternoon (from 2-4pm), with the support of virtual Ashurst supervisors. We allowed time for breaks and an hour for lunch.
•             Technology platform:
Another early consideration for moving to a virtual programme was deciding which technology platform to use. At Ashurst our preferred platform is GoToMeetings and as a team we attended internal training delivered by our IT team to 'upskill' ourselves with using this platform. Another platform to consider using is Zoom Meetings (see SMF Guide below for more information), which is easy to use and offers great functionality to help with student engagement and participation – such as breakout rooms and polls. At Ashurst, in addition to GoToMeetings we also made use of Slido to run polls and increase interactivity. For example on the first day we created a Slido poll with a number of questions to act as a virtual icebreaker session.
•             Student access to technology:
A vital consideration is the access that students will have to their own laptop or mobile devise and also the quality of their home Wi-Fi (see SMF Guide below for more information). At Ashurst we conducted a student survey to ascertain student access and needs and followed up with students individually, if additional support was required. We also made the decision to record our live sessions, in case students experienced IT issues on the day as a result of poor internet connection for example.
•             Safeguarding considerations:
When working with U18s safeguarding should be carefully considered at all times and of course this also applies to virtual work experience programmes. At Ashurst, we undertook a thorough review of our existing safeguarding policy and introduced specific guidelines for both volunteers and students relevant to virtual programmes (see SMF Guide below for more information). For example, we made it clear to volunteers and students that photographs could not be taken nor recordings made during any of the sessions.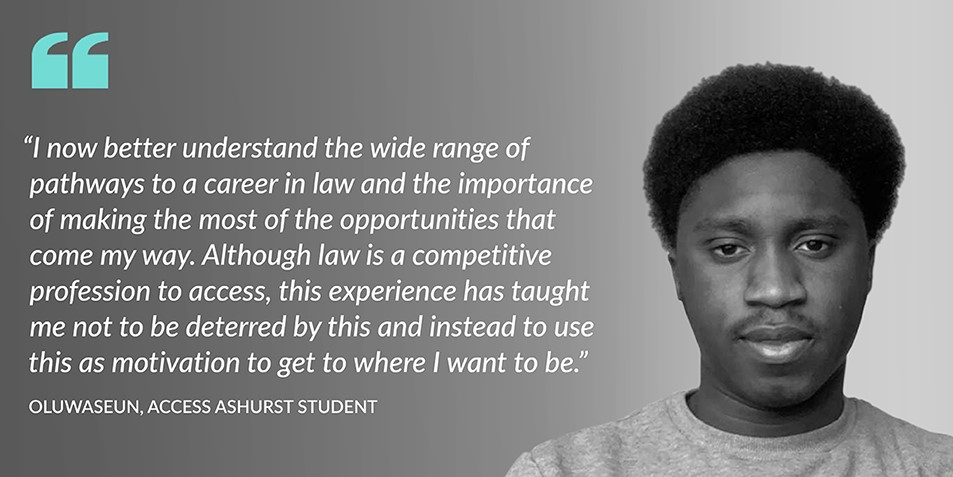 Useful resources
The below resources provide in-depth guidance and top tops on planning for and delivering a virtual work experience programme, including important considerations such as programme content and delivery, technology, safeguarding and more!"